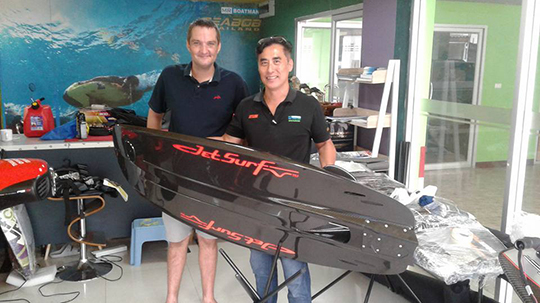 Our strategy
Mr.Boatman (Thailnad) has succeeded by following a clear, consistent strategy.


We continuously strive for the best in developing our plan.
We stated business from small and take long time full of knowledge. we know what we are doing fully with honer and royalty.
We carefully manage each of our branches.
We empower our people by providing an adequate training, a clear line of work, an attractive working environment and a development at every level.
We consider our employees to be one of our main assets and do our best to make them belong to the company.
Team spirit and discipline allied to emerge as Mr.Boatman. These two perceptions were the driving force behind building the concept of Mr.boatman: uniting all sports equipments and lifestyle brands into one store with a new vision of retail concept. We seek to be distinctive and innovative while promoting a new approach to the sports retailn & rental business. A well disciplined, carefully selected team is built to work according to our guideline. Our team's skills, dedication and aggressiveness are behind our increasing success in this challenging market. We want sports and lifestyle brands to be easily accessible to all.
Our mission is to provide our customers everything they ask for by holding the largest retail sports network inThailand along with professional advice and counseling. Through extensive research and careful attention to our customers needs and suggestions, we commit with passion to serve the best. Constantly striving to build a solid reputation among those who seek to stand out, we make it our business to ensure the best quality products and services. Our aim is to expand all over the Thailand territory and beyond local frontiers, in order to become one of the largest retail sports network shops in the region. Established itself as the leading wholesaler and retailer of sporting goods and lifestyle brands in Thailand.
Mr.Boatman started in 1989 as a simple retailer store a dealer for Seadoo PWC ,Yacht and marine supply products. It has currently nine branches and 3 strategic points of sales to the rich and helthy man. Over the past 19 years, it has been a dealer of water sport Seadoo PWC. Speed Boat, outboard engines as we grown and has 1998 Mr.Boatman starts its business in Phuket(Thailand) of its owners, a village in butifull sea,sand beach and warm water all year around. On the same year we become a distibutor a Sea scooter. we start to import Seadoo Seascooter and services in Phuket. additional brands and items were introduced to the shop.Life style brands found their way two years later into that growing business we have to
move to Bangkok main big city of Thailand.A retail store was operational.The wholesale department starts its functions. The main idea is to supply and rental services the Seadoo seascooter and water sports equpments of the region. The demand of the market and the insight of the owners required the expansion of the business.
The customers relationship with Mr.Boatman has always been valued on both retail and wholesale levels. Our target goes from associations, clubs, hotel and schools to professionals and amateurs. At Mr.Boatman retail shop, every one can identify himself, whether you are young, adolescent, old, amateur, professional or simply just enjoy feeling at ease by choosing sports apparel and related or lifestyle brands.